Each month, we will highlight a different Mentor match within the LifeWorks Mentorship program.
Lindsay & Linsy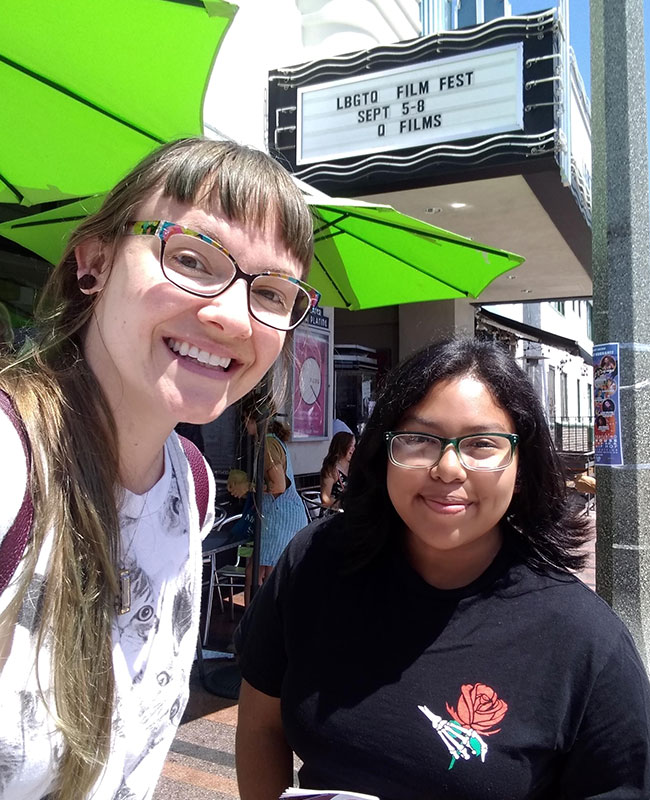 * Lindsay (left) and Linsy (right) attending the QFilms Festival in Long Beach - September 2019
We asked Lindsay a few questions about their mentorship with Linsy
What is your preferred name?
Lindsay
What are your pronouns?
She/Her
When did you start your match?
Linsy and I were matched in July 2019
Describe Linsy in three words.
Creative, caring, and funny!
Name a quality you admire about Linsy.
Linsy is very honest when sharing about her life. This makes it super easy to get to know her.
Think back to when you're were first matched, did you envision your match as it is today?
I envisioned getting to know Linsy, connecting and learning with her. It's exactly that—and more—as we continue to meet and explore new activities and events.
What skills have you learned so far from your mentorship match?
Through this match, I've learned to see things from a different perspective as Linsy shares her experience with me.
Describe a fun time you've spent with your mentor.
QFilms Festival in Long Beach 2019 was awesome. We got to check out the Women in Shorts bit, showing a variety of women from different cultures and spaces. It was amazing to see such a wide range of representation. Linsy and I agree this was the most fun event yet.
If you could change one thing in this world to make it better, what would it be?


Linsy and I agree that the world would be a better place if people were less judgmental of others. As we continue to educate ourselves and others, we may get a little closer to a world of more respect and love.
Thank you, Linsy and Lindsay, for sharing your responses and being a part of the Mentorship Program!